The Group is one of the leading silver producers in the PRC which manufactures high-grade silver ingots for industrial and trading purpose.
The Group is among the select few silver manufacturers in China capable of producing silver ingots with purity grade of 99.999%, currently the world's highest standard. We own a silver production base in Ji'an of Jiangxi Province, with a production of up to 250 tonnes per annum. Our principal product is silver ingots of the well-recognized "Longtianyong" brand, which is certified by London Bullion Market Association (LBMA). Additionally, the Group refines other metal by-products with commercial value, including lead ingots, bismuth ingots and antimony ingots, as well as processes kiln slag into saleable concrete for construction use.
The Group has deployed a comprehensive environmental-friendly production to eliminate solid waste. We were one of the advance companies to be certified as "Circular Economy Exemplar Enterprise" by the Jiangxi Development and Reform Commission and were awarded RMB10 million by the National Development and Reform Commission of the PRC (NDRC).
Since March 2012, we have obtained GB/T 24001-2004/ISO 14001:2004 certification for our environmental management system, GB/T28001-2001 certification for our occupational health and safety management system and GB/T 19001-2008/ISO 9001:2008 certification for our quality management system.
The Group has established a strong market reputation and widely-recognized credibility among customers over the years. We have built a solid and diversified customer base, many of which are among the largest or leading enterprises in the end-user markets involving all aspects of the application and use of silver products in China.
| Longtianyong
With our quality and reliable production capability, our principal "Longtianyong" silver ingots were admitted to the LBMA Good Delivery List in 2011, which is the only non-stated-owned / -controlled entity in China among the 17 Chinese certified enterprises. Moreover, "Longtianyong" brand silver ingots have been ranked one of the 20 most popular silver brands by the Shanghai White Platinum & Silver Exchange since 2005.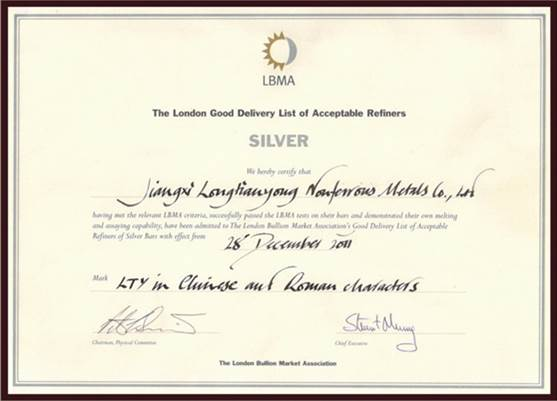 London Bullion Market Association (LBMA)
London Bullion Market Association (LBMA) Representing the local gold and silver wholesale trade association in London, the LBMA is widely recognized as the world's foremost OTC gold and silver trading center. Its global clientele covers major gold and silver holding central banks and gold and silver producers, refiners, processors and traders worldwide.