| CSmall Shops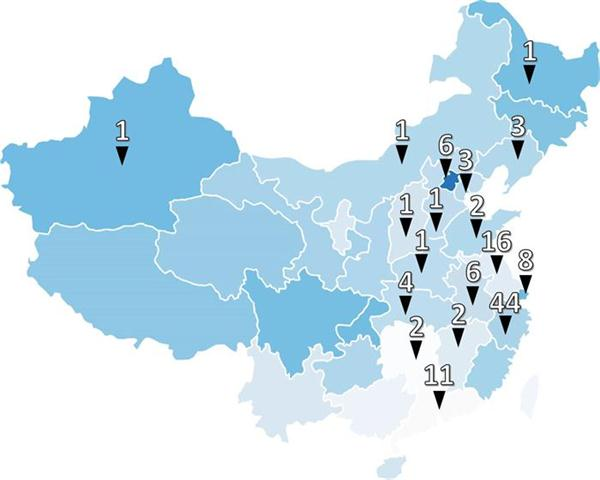 We offer intimate on-the-ground sales and services to our customers, including jewellery fitting and maintenance services, which we believe are essential and important in the jewellery shopping experience, at our CSmall Shops. As of 31 December 2016, we had over 110 outlets across the PRC with presence in Anhui, Beijing, Guangdong, Hebei, Heilongjiang, Henan, Hubei, Hunan, Inner Mongolia, Jiangsu, Jiangxi, Liaoning, Shandong, Shanxi, Shanghai, Tianjin, Xinjiang and Zhejiang.
Multi-Brand Jewellery Mall
CSmall shop is the innovative multi-brand jewellery mall, which brings together jewellery brands from different countries under one roof. The brand mix is tailored to the needs of target customers in different regions, by featuring global renowned brands and original specialty brands. Each outlet offers a wide variety of creative jewellery products in various styles which are made in different countries, to cater to the preferences of a wide range of customers. Further, the adoption of an advanced New Jewellery Retail business model integrates online and offline sales channels, resulting in a strong product database and comprehensive services. This allows the implementation of "Small Window, Big Platform" and "Small Inventory, Big Market" mantras, which underpin the business operations of China Silver Group.

Mono-brand Stores
Hui Tian Yin, Zun Fan

| Shenzhen Exhibition Hall
Sales were generated from our Shenzhen Exhibition Hall with a gross floor area of approximately 2,000 square meters in Shuibei, Shenzhen, which area is home to China's largest and leading jewellery trading and wholesale market. Our Shenzhen Exhibition Hall showcases the product designs of our self-owned brands and certain third-party brands, and also serves as an interactive exhibition and sales platform primarily for our wholesale customers as well as our franchisees.

Collections of Chinese handicraft masterpieces
The exhibition hall distinguishes itself with its emphasis on showcasing the essence of Chinese culture. We have forged close relationships with the top Chinese handicraft masters and set up a special showroom dedicated to their masterpieces, allowing visitors to get a real taste of the finest Chinese arts and crafts creations. Limited editions of their artwork are available for sale to reinforce the positioning of China Silver as a brand which embodies Chinese culture.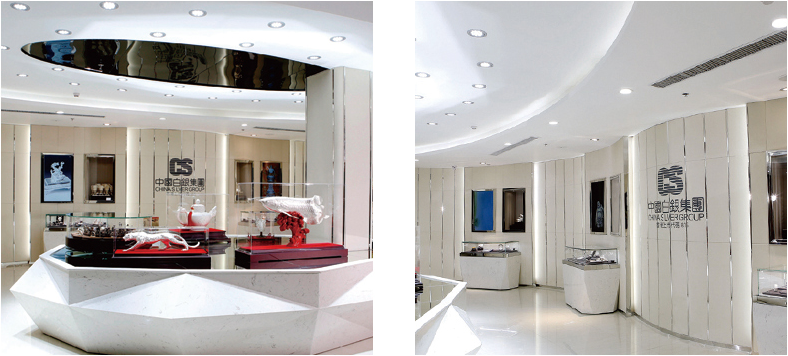 Interactive product displays to facilitate procurement
The experience zone is designed with innovative service functions. It features a refined functional layout which includes a reception room, meeting room, settlement service area and guest lounge where the products are displayed as three-dimensional holograms. Touch screen devices are also provided for an interactive shopping experience and product customization.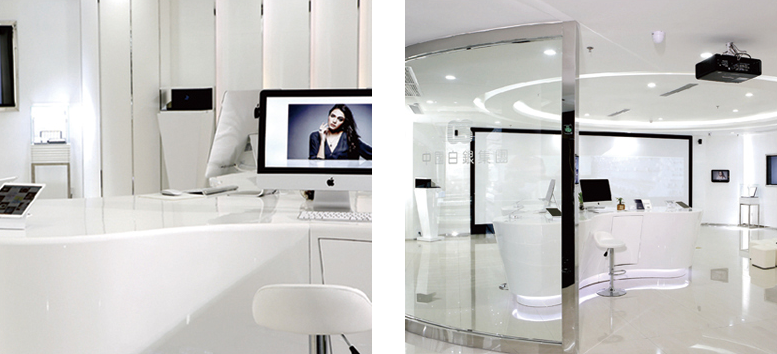 | Third-Party Offline Points of Sale
We also distribute our jewellery products through various third-party offline points of sale.
For instance, we partnered with banking institutions such as Bank of Ganzhou to distribute
tailored silver collectibles to high-net-worth customers through their bank branches across the PRC.