DMCC and China Silver Group Sign Memorandum to Drive Commodities Trade in China's Free Trade Zones
---
Dubai, UAE and Hong Kong, China; 18 April 2016: DMCC, ('Dubai Multi Commodities Centre'), the Government authority on trade, enterprise and commodities in Dubai, announced today its signing of a Memorandum of Understanding (MoU) with the leading Chinese silver producer China Silver Group Limited ("China Silver Group"; 815.HK) in Shanghai.
The purpose of the memorandum is to explore how DMCC and China Silver Group can collaborate to establish a central registry for a commodity ownership and financing platform in China's Free Trade Zones, while encouraging knowledge sharing between the two stakeholders for the benefit of future bilateral trade initiatives.
Gautam Sashittal, Chief Executive Officer of DMCC, said:

"At DMCC, we are passionate about building and delivering new marketplaces which is why leading this collaboration with China Silver Group marks a natural next step in how we seek to connect and modernise markets to increase cross-border efficiencies.
"Today's Memorandum of Understanding also reinforces the strong trading relations between China and Dubai, underpinned by the One Belt One Road and DMCC's continued focus on boosting commodities trade along the West to East corridor."
Richard Sung, Chief Executive Officer of China Silver Group, added:
"This important initiative underpins China Silver's strategy to become the industry leader and core provider of metals related warehousing logistics, warrant and financing services via a highly secured and fully integrated service offering across a broad range of commodities products in China's Free Trade Zones.
"It follows China Silver's strategic acquisition of Shanghai White Platinum & Silver Exchange which is licensed to operate in the Shanghai Free Trade Zone to meet the needs of both Chinese and international players and the Chinese central government's policy to develop benchmark pricing".
The MoU will also seek to develop world class infrastructure to support commodity business activities in China's Free Trade Zones by drawing upon the capabilities of DMCC's Free Zone, Tradeflow platform and Dubai Gold and Commodities Exchange (DGCX). In doing so, the collaboration aims to connect a wide range of financial institutions and physical traders to trade with confidence.
-ENDS-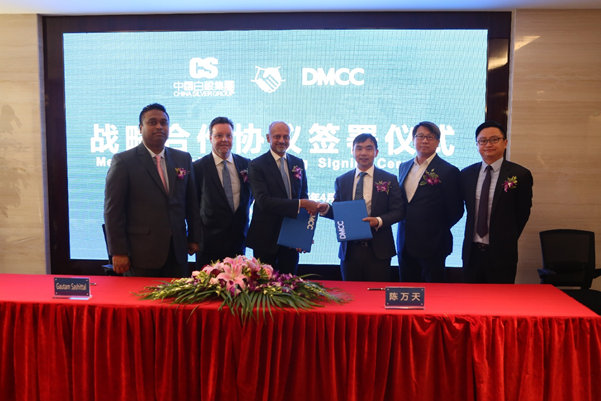 DMCC and China Silver Group signed a MOU in Shanghai today. The management (left to right): Sanjeev Dutta, Director of Tradeflow DMCC, William Barkshire, Senior Adviser to China Silver Group, Gautam Sashittal, Chief Executive Officer of DMCC, Chen Wantian, Chairman of China Silver Group, Richard Sung, Chief Executive Office of China Silver Group and Eugene Cheung, CEO of Shanghai Huatong International Silver Exchange.
Media Enquiries:
DMCC
PR & Corporate Communications
China Silver Group – Hill+Knowlton Strategies
Agnes Suen

Tel: (852) 2894 6258

Ka Wai Li

Tel: (852) 2894 6252
About DMCC
DMCC is the authority on trade, enterprise and commodities in Dubai—home to the world's leading businesses of today, and tomorrow.
The most successful markets create conditions that enable producers, traders and consumers to thrive. DMCC is a Dubai Government Authority committed to developing these ideal conditions and has a strong track record in commodity trade facilitation where we encourage and support business through the platforms we provide. These include our Free Zone, commodity exchanges, legal and regulatory frameworks and our real estate offering.
DMCC is developing the 'Burj2020 District' as part of our DMCC Free Zone expansion strategy to provide leading businesses with a commercial property offering unique to the Dubai marketplace.
Indispensable to the economic growth of the nation, we - together with our members - deliver strong performance today, and sustainable growth tomorrow.
DMCC. Made for Trade.
www.dmcc.ae
About China Silver Group
China Silver Group Limited is a leading silver producer in China and is listed on Hong Kong Stock Exchanges (HKEX - #815).
Located in Jiangxi Province, the Group owns a leading silver production base under the well-recognized "Longtianyong" brand and is recognised by the LBMA as good delivery standard.
In February 2016, China Silver Group acquired full control of Shanghai White Platinum & Silver Exchange ("Shanghai Huatong"). Shanghai Huatong is the operator of an integrated precious metals and non-ferrous metals exchange in China which provides professional and standardized spot goods supply, trading, logistic and e-commerce services. It is currently one of the largest spot exchanges for silver trading in China with its official website, www.huatongsilver.com, being the most authoritative web portal for the silver industry in China. The daily spot silver prices quoted by www.huatongsilver.com are the general reference prices for the silver industry in China.
Shanghai Huatong has maintained close relationships with the largest silver producers and silver-consuming companies in China. It has over 300 participants, covering more than 80% of the silver manufacturing enterprises, with a total of 42 recognized silver brands for trading.
Shanghai Huatong also owns Shanghai Huatong International Silver Exchange, currently the only approved spot silver trading exchange in China (Shanghai) Pilot Free Trade Zone which will become the first international silver exchange in China which allows foreign investors to directly participate.